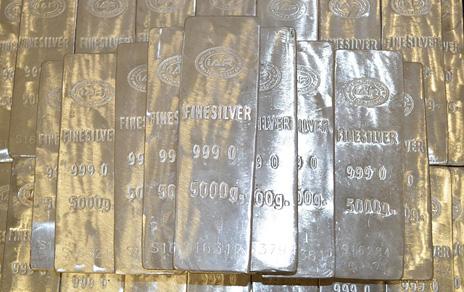 Silver's Future Will Be Strong and Gold Has Potential to Go Parabolic
Kitco: Will Silver Be the Metal of the Future?
Bloomberg: Gold to Go Parabolic – Here's Why
InvestorPlace: Gold Could Be the Biggest Beneficiary of the Reflationary Environment
Image: Kitco
Kitco: Will Silver Be the Metal of the Future?
Silver struggles to gather a bullish momentum, but one analyst has faith in the grey metal. John Feeney, the business development manager of Guardian Vaults believes that silver will attract investor attention when the Federal Reserve's sluggish policymaking becomes evident.
Feeney points out that the current global monetary policies support precious metals: ultra-low interest and government debt burden cannot be set right without severe negative consequences. And compared to other precious metals, silver's industrial demand gives it an edge: silver is essential for the solar power industry, but the real room for growth is in the electric car industry. Feeney predicts that silver usage in electric vehicles will grow to 90 million ounces by 2025, with more demand on the horizon, while its supply outlook remains stable.
Instead of looking at silver's short-term volatility and current price, a wise investor should see price drops as opportunities and follow long-term bullish fundamentals. According to Feeney, these qualities make it a much stronger choice than gold in the long run.
Read the whole article / 9.9.2021, Neils Christensen
Bloomberg: Gold to Go Parabolic – Here's Why
John Paulson of Paulson & Co. explains why gold is going parabolic and why you should invest in it. He makes it clear that gold remains a good investment at the current price, because there's a good chance that gold will be going up parabolically. Last time gold went parabolic was in the 70s, when there was two years of double-digit inflation.
When inflation rises over long-term bond yields and bank interest, their value begins to erode and investors try to move away from fixed income to assets such as gold. There's only a limited amount of investable gold, so supply and demand will make its value rise due to the huge tide of investors.
This process will begin to feed itself, which Paulson means, when he says that gold is going 'parabolic', Last time this could have happened was in 2009, when the Federal Reserve began its quantitative easing. However, that time Fed also raised capital and reserve requirements of banks and basically recycled money back into Fed's excess reserves. The money never really entered the money supply, which kept inflation low. This time is different: last year money supply was up 25%, thus Paulson predicts much higher inflation than others expect.
Watch the whole video / 30.8.2021, David Rubenstein
InvestorPlace: Gold Could Be the Biggest Beneficiary of the Reflationary Environment
The improving economic conditions are creating a reflationary environment, which means bright days for commodities – and gold especially, according to a recent study. The World Gold Council argues that gold is the most effective commodity due to its superior returns on both absolute and risk-adjusted basis over multiple timeframes.
The yellow metal is also better at diversifying portfolios than other commodities. According to the council's study gold has outperformed both commodities and assets like real estate investment trusts and Treasury Inflation-Protected Securities. While gold has lagged behind other commodities since May 2020, WGC says it's not unusual in commodity-led reflationary periods and that in the past it has caught up by the second and third year of reflation.
Gold benefits from its multifaceted status as both an investment and a consumer good and it's less affected by volatility than other commodities. So far it has performed roughly in line with the S&P 500 in the long-term, giving an annual average return of 10.8%. At the moment investors are waiting for the Federal Reserve's news about asset-buying and inflation. Gold has potential to keep rising, but it could change with any expected economic report.
Read the whole article / 10.9.2021, Michelle Jones
This is Jalonom's monthly review of interesting precious metal news from different international sources. We wish to offer the reader a compact and quick to read review of monthly news. Especially we focus on news relating to gold investing.