The Company
Jalonom Oy – a Finnish family business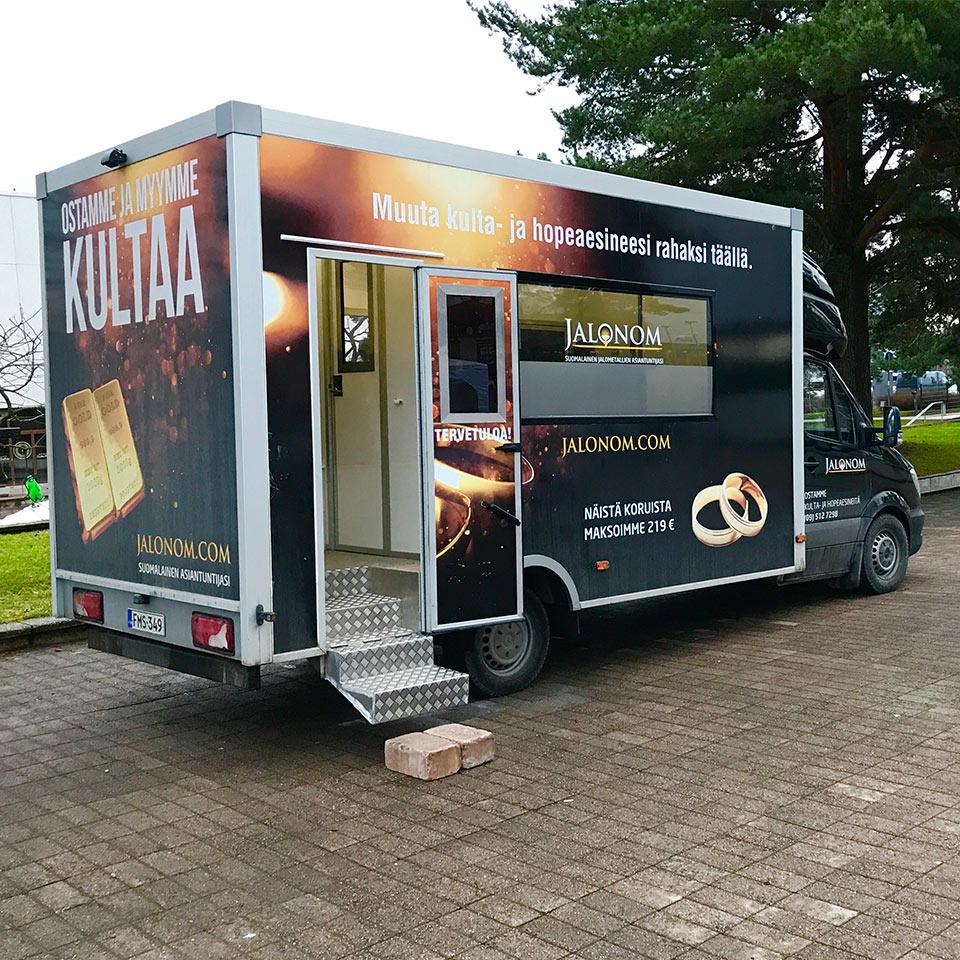 The Jalonom buying truck is a quiet place to negotiate on precious metals.
Jalonom Oy
Jalonom Oy is a Finnish family business specialized in recycling and investing in precious metals. Our mission is to help people make their dreams come true via precious metals.
Jalonom was incorporated in 2011 and it is an established operator in the field with a good reputation. Jalonom operates in Sweden, too.
The operational base of Jalonom is located in Espoo. Revenue in 2020 is estimated to be 8 million euros and we have 12 employees on average.
We serve at local purchasing points around Finland and Sweden in matters related to purchasing and recycling precious metals. 
Through our webshop we sell a variety of gold products to those who are interested in investing in gold starting from gold plates weighing one gram to heavy gold bars. Many of these are popular gifts for posterity, christenings, graduates, wedding couples or those workplace commendations.
Gold is a stable and productive investment. Find out more on the subject on the page Investing in Gold. It is possible to buy a limited amount of gold products at our purchasing points, too. 
How we operate in practice
Our business idea is based on personal, honest and fast customer service. Our mobile purchasing points are where our customers are – we serve at the facilities of our affiliates (typically local shops) or from Jalonom buying trucks. The client can call the bying truck to their own town when wanted.
We accept precious metal items for valuation via post, too: we deliver the client a free of charge, sealed postal shipment package and after the client has accepted the estimated price the agreed price is paid into the clients account without delay.
Ask for more information
Do you need more information on single item valuation, our purchasing points or recycling precious metals, for example? Leave a contact or offer request or give us feedback. Your opinion is important to us.